Home
»
Winery Articles
Discover Long Island Sparkling Wines
Posted by
Amanda
on 10/1/11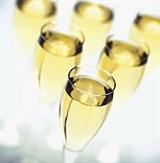 It is hard to imagine any elegant event without some bubbly in your glass. The sparkling wines produced by Long Island wineries have a lot to offer other than just effervescence. A deeper look into these sparkling treasures allows you to see that there is a world of flavor waiting inside each of the bottles produced by these wonderful vineyards. The secret to producing tasty sparkling wine with a variety of flavors is in different processes, grapes and even in the fermentation process.

Those looking for something light to go along with brunch or to serve as an aperitif will not be disappointed by Long Island sparkling white wines. These wines embody the fruity notes you might expect from imported wines or even from champagnes. Most of these are finished with an injection of CO2. The process allows the sparkling wine to have a light and airy quality that is enjoyed for just about any occasion.

If you are looking for some sparkling wine to go along with your meal, you will not be disappointed. A second fermentation in the bottle as well as the introduction of barreling in the process creates some sparkling wines with enough body and character to stand up to fowl and even fatty dishes. Talk with the Long Island wineries to find out which labels they suggest to go along with a meal as many of the sparkling wines are made more to be light and enjoyed alone.

Storing many of the sparkling wines from Long Island wineries is possible. The best for aging include the bottles that have gone through the second fermentation in the bottle to produce the carbonation. Any sparkling wines that use CO2 to produce carbonation will eventually lose their effervescence and will not taste very good as a static wine.
More Articles by Amanda