Home
»
Winery Articles
Port Wine Guide
Posted by
Amanda
on 4/2/10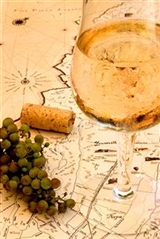 Port wine all began in the Douro Valley in Portugal. The valley extends from Oporto all the way to Spain's border. The term port is only used when referring to the wines from this region similar to the way in which certain wines from France can only bare specific names.

Port wine became popular during a time when the English were at were with France and due to this fact would not drink French wines. The English searched for a new location to set up vineyards so they could still enjoy their wines and this is when Douro Valley was discovered. The vineyards were created along the steep hills, which proved to be great footing for the grape vines.

During the days when long sea voyages were the thing, wines often did not survive the journeys. Brandy started to be added to the wines to help the wines last longer as brandy was more resistant to temperatures that was often seen while traveling. The wines in which brandy was added was named fortified wines and port was among the most popular of these fortified wines.

Port wines can be created with 48 grape varieties that have been authorized to be used in the creation of the wine. The most common grapes include eight red and eight white such as tinta francisca, touriga Francesca, touriga nacional, and tinta rariz, to name a few. Port wines are kept in oak for a short period of time and are blended with other years to achieve a consistent taste. After the port wine is blended, it is then fortified and placed in bottles for again.

Port wines are not all stored in the same manner dependant on the type. The standard port has a stopper with a plastic top seal. These wines should not age, and should be stored upright. Vintage ports should be aged and have the normal cork meaning they should be stored on their side.

Standard port wines should be consumed shortly after purchasing but can be recorked. Once recorked it can last from one to four months. On the other hand, vintage port wine once it is opened will lose flavor within 24 hours.

All port wines should be served at 65 degrees Fahrenheit in narrow wine glass. The wine may need decanting as well. This wine goes well with cheddar cheese and chocolates. The aroma of port wines is often said to be pepper, smoke, truffles and black currant.

There are different types of Port wines including white port, ruby port, tawny port, late bottled vintage port, and vintage port.

White port wine is created from various white grape varieties, aged, and fortified. White port normally is a simple multi-year blend of vintages. This port can be sweet or dry.

Ruby port wine is created from a blend of red grape varieties and blended from several years. This port wine is not aged. A hint of berries is its signature.

Tawny port wine is a ruby port wine that has aged for years in oak barrels. This is the reason the wine has a tawny color. The signature flavor is a buttery nutty caramel flavor that is sweet to the palate.

Late Bottled Vintage port wine is created for restaurants. The winemaker filters and pre ages the wine for six or more years. This wine should be consumed when purchased.
Vintage port wine is the high-end wine of the category. This wine normally needs aged for between 10 and 30 years before it will truly be at the best drinking flavor.
More Articles by Amanda