Home
»
Winery Articles
Weekend Winery Tours Guide
Posted by
Amanda
on 12/15/09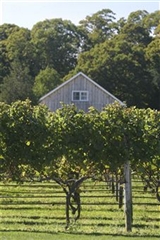 Want to enjoy a weekend getaway or a romantic wine tour with that special someone? You can enjoy wine tours of wineries and get the most of a short weekend tour while visiting more than one winery.

The tips below will help you make the most out of your wine tour while ensuring you do not forget obvious things such as planning ahead.

You may not believe this, but it is always best to plan your route. You should obtain a map with all the wineries in the area. Now, plan a route. Be sure to take into consideration driving time. Some of those roads are twisty curvy and cannot be driven as fast as you might think. Do not plan to see more vineyards than you can actually see in one day. The wine tour should be enjoyable and pleasant, not hurried and rushed. The idea of wine tours is that you enjoy visiting the vineyard, learning about the vineyard and the wines, taking time to enjoy the aroma and the flavor of the wines you sample. Not only that, but the scenery from one vineyard to another is a breathtaking sight to see which may even cause you to want to stop and take a few picturesque photos along the way, another reason to give yourself plenty of driving time. You should also call the various wineries you plan to visit. Some of the smaller vineyards may not be open on the weekends and some are not open at all during winter. To really enjoy each vineyard and winery you should allow one hour per winery.

For a weekend wine tour, you will more than likely wish to spend the night as close to the last winery you visited as possible. You may also want to bring along a designated driver as you may be a bit too tipsy to drive from winery to winery and then to your hotel or bed and breakfast after the wine tour. Having a designated driver will truly make your weekend more enjoyable. If you cannot find a driver, you should then only swirl the wine and spit it out. This will give you the chance to enjoy the aroma and the flavor without the intoxicating effect.

You should wear comfortable clothing and shoes. You are not going to a party. You will be walking around in a cool damp wine cellar or even out in the vineyard according to your own preferences. This is not the place for mini skirts, high heels, or even strapless clothing. This is a place for practical, comfortable clothing and shoes. You are going to be on your feet the majority of the day sampling wines, tennis shoes are the perfect fit. Another thing to consider. You may only be sampling a few and are only a bit tipsy, the person next to you may have had a few too many. This can lead to spills on your clothing. Bright red wine on a white shirt will certainly not be attractive and can ruin your day. Wear dark clothing and if possible, have an extra outfit in the car, just in case.

Remember, wine tours are all about the aroma and flavor of wine. You and others that are sampling the various wines, wish to enjoy the aroma of the wine. Remember this as you are getting ready for your wine tour. It would be best if you wear no perfumes or colognes at all. On the other hand, if you must use perfume or cologne go light.

Okay, if you will be sampling the wines instead of spitting them out, be sure to eat breakfast. No, not just a piece of toast. You will want to eat a good-sized breakfast so you are intoxicated shortly after starting the wine tour. Also, plan to stop for a good-sized lunch, or bring along a picnic basket and enjoy one of the vineyards along the way. If you wish to eat in a restaurant, you should also plan this ahead of time. Some of the restaurants in the area may only be open specific times during the weekend. Call before the weekend and make a reservation.

You may not wish to taste wine first thing in the morning when the winery opens, but most people would prefer to enjoy the wineries in the afternoon. If you wait until then, the wineries will be crowded. Start your wine tour early, this way you will be able to enjoy the peacefulness and even have more time to learn about the vineyard before other visitors start arriving.

The best way to taste wines is from the lightest to the driest to the strongest to the sweetest, as stated by wine connoisseurs. You need to start off with the lightest and end with the ports. Enjoying wine is just the same as enjoying meals. Appetizers come first and desserts come last. An appetizer would not taste the same if you had just eaten an ice cream sundae, the same goes for wines.

As mentioned before spitting is going to be one of the most important things you will be doing during your wine tour. Just imagine sampling every wine at each winery. If you do this, you will be staggering before noon. Spitting out wine after you swirl it around for your taste buds to enjoy is a very acceptable practice. Most wineries have a bucket available for that purpose. I would suggest that you practice spitting in a bucket before heading out, though. You certainly would not like to spit on another guest's shoe.

Take notes about the various wines. This is also an accepted practice. You should keep notes regarding the aroma, flavor, and learn to ask questions about the foods that are best with the various wines. You can purchase your favorite wines as you go from winery to winery, but if you do not have any notes, you may not remember which one of the wines you plan to have at dinner tomorrow night.

You may not believe this, but you will need to drink plenty of water. Alcoholic beverage including wines has a drying effect on the body. You should carry a water bottle with you to ensure you do not become dehydrated.

Be sure to plan time to visit the restroom. You are going to be drinking and sampling wines, which will of course; have you looking for a bathroom. You should use the bathroom at each winery as there may not be another one until you reach the next winery.

Remember, this is a wine tour. A tour should be a relaxed and enjoyable experience and not rushed. Enjoy visiting the vineyards and wineries, plan a picnic, and take photos; this is your day to enjoy the wineries.
More Articles by Amanda