Home
»
Winery Articles
Attractions Close to Long Island Wineries
Posted by
Amanda
on 3/1/11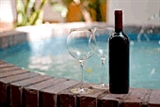 Visiting Long Island wineries can be the entire reason for going to Long Island. However, even the biggest oenophiles might need a little distraction from seeing grapes and vines all day every day. It is good to know that there are many great attractions close by to the wineries you will find on the North Fork and South Fork of Long Island. This will allow you to have fun so you can get back to the serious wine tours you are looking to enjoy.

Having Fun in the Water

Starting the day off with a little time in the water allows you to enjoy your wine tour even more. There are many great beaches you can enjoy while staying on Long Island. The North Fork and Shelter Island allow you to enjoy some of the best looking beaches you can dream of. If you are looking to enjoy these beaches, you will need to obtain a permit for your vehicle unless where you are staying provides transportation to and from the beach.

If you are looking to go sailing on the water, you can enjoy renting or chartering a boat for the day. Getting out on the water and enjoying the sun and surf allows you to get back to nature in a very different way. The different ports and launches allow you to either bring your own boat or to find one that you will be able to use for the day.

Relaxing in a Park

The bottles of wine you have purchased from the Long Island wineries can be enjoyed along with a great picnic in any of the various parks you can visit. While at the park, you will be able to do more than just lie on a blanket and stare at the sky. Many have paddleboats or other activities you can enjoy. Look for activities you are interested in when choosing the park you will visit.

Nature trails are common at many of the parks you will find close to the vineyards. These allow you to enjoy bird watching as well as horseback riding if you prefer that to walking the whole way. Getting out into nature and breathing in the scents allow you to leave the hustle and bustle of regular life behind at least for a little while so you can relax and recharge your batteries.

Many of these parks have festivals held throughout the spring, summer and early fall. Musicians and vendors converge on the different parks to bring you the kind of fun and entertainment you want to have. Most of these festivals are free. You can look on the website for the different parks to see about any upcoming events.

Antiquing and Museums

You may be looking for a great decanter for those great wines you just purchased or a crystal glass to drink out of. Look for the different antique stores you can purchase from. You can also visit all of the museums that are in the area you can enjoy.

More Articles by Amanda