Home
»
Winery Articles
Chardonnay Wine Guide
Posted by
Amanda
on 12/5/09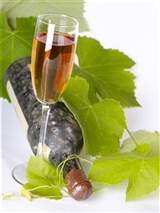 Chardonnay wine is created from the chardonnay grape, the reason for the name of the wine. The grape is believed to have originated in Lebanon and once the wine was introduced in France, this is the only grape that was grown in Chablis, Burgundy. The chardonnay grapes are also used in the creation of sparkling wines and Champagne.

The Chardonnay grape was introduced to the United States and over the last forty years has grown in popularity to be among the most popular white wines. Chardonnay vineyards are found throughout the United States especially in California and on Long Island, New York. The vines are easy to grow and have a high yield thus the reason many winemakers choose the Chardonnay grapes for their vineyards. Wine enthusiasts enjoy all the wonderful varieties of flavor found with Chardonnay wines.

The flavor and aroma of the Chardonnay wine depend on the location of the vineyards and how it is fermented. Chardonnay even though it has its own characteristics it can be semi sweet or sour, light or heady. The flavors that often dance on the taste buds are oak, apple, melon, tangerine, lime, and lemon.

Chardonnay is normally dry and goes great with seafood such as scallops and lobster, light red meat, pork, and poultry. Recipes that call for a heavy cream or butter base are also partnered with Chardonnay. If the Chardonnay is unoaked it can be served with grilled shrimp, salads, garlic, guacamole, and curry dishes. Cheeses that are often served with Chardonnay include Brie, Gruyere, and Provolone.

Chardonnay should be served at 48 degrees Fahrenheit and should not be aged in most instances, but can be aged for around ten years.
More Articles by Amanda