Home
»
Winery Articles
Choosing the Right Wine to Enhance your Thanksgiving Dinner
Posted by
Amanda
on 2/21/10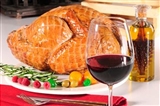 You more than likely already know the delectable dishes you are going to prepare for Thanksgiving Dinner; the question is what wine or wines are you going to serve? Do you have any idea how to choose a wine or more than one wine to serve with the traditional turkey meal?

First you will have to make a few decision as to if you want one wine that will satisfy the palate beginning with the appetizers and still tantalizing the taste buds all the way to the dessert. Is there one wine that can actually do this feat? The answer is yes. On the other hand, you may decide to choose a different wine for every step of the Thanksgiving meal that will accent the various items you have created to enjoy. This is the first decision you will have to make, but with the following guide, you will be able to make an educated decision on which wines will go with all or part of your Thanksgiving Dinner.

Wines that enhance or compliment the flavor of all foods at a Thanksgiving Dinner

You may be wondering if you take the guesswork out of a choosing a wine and have one wine for the entire meal. The answer is that you can choose sparkling wines and the rest is history. If you think you have enough to do with all that cooking and preparing your house for the holidays, just serve your favorite sparkling wine. Sparkling wines are the pairing partners for all kinds of foods as well as add just a bit of elegance to the table.

A few wine connoisseurs have their favorite list of wines for Thanksgiving Dinner, which include Syrah, Zinfandel, and Pinot Noir if you enjoy red wines, on the other side there are the white wine lovers that choose Riesling, Gewurztraminer, Viognier, and Sauvignon Blanc.

In some cases, you may wish to try a rose or sherry wine if you do not want to serve a sparkling wine and you wish to avoid red and white wines, since you are not sure of your guest's preferences. Rose wines can add to your Thanksgiving Dinner but you should choose one that is extra dry. This will provide a fruitier flavor than a robust. A drier rose wine will partner nicely with any part of your Thanksgiving dinner.

A look at the white wines for Thanksgiving Dinner

Riesling is a white wine that can be dry or sweet. This wine is terrific with any food that is salty, sweet, or spicy. The wine has a hint of apple, honey, and apricot flavor and with its clarifying acidity; it was partnered with stuffing, turkey, and sweet potatoes.

Gewurztraminer is a white wine that offers a pleasant aroma and a bit of spicy flavor, which did well with turkey and gravy.

Viognier and Albarino go well with most of the spicy and sweet items you serve at Thanksgiving but will of course bring their own unique flavor to heat things up.

Sauvignon Blanc is a white wine known for that citrus-based flavor that goes well with herbs. When paired with turkey or whipped potatoes you have a hit.

Pinot Grigio is a white wine that will take on herbs, garlic, onions, herbs, and high fat foods and come out on top. This wine can be paired with all your spicy dishes and accent the flavor.

A look at the red wines for Thanksgiving Dinner

Syrah also known as Shiraz is a red wine that can add a bit of spiciness to your meal while taking on all flavors found at the dinner table and accenting all rather well. The peppery undertones of this wine can be partnered with herb stuffing and turkey very well.

Zinfandel is a red wine that is a bit fuller bodied than Pinot Noir but will go great with most Thanksgiving treats. This wine can be partnered with all kinds of foods including spicy, bitter, and sweet.

Pinot Noir is a red wine, which is often served along the Thanksgiving turkey. The undertones of mushroom and earthy flavors are considered an accent to any Thanksgiving dinner especially when the fruit features combine with the earthy tones you will have a real treat. This wine partnered with turkey and stuffing is a huge hit.

The end of the traditional Thanksgiving dinner brings out the pumpkin and pecan pies. If you wish to serve a wine with your dessert, you will be glad to learn that sherry is often partnered with pies due to the nutty sweet spicy flavor it holds. Riesling is another excellent choice that will bring a touch of honey to your pies. A tawny port might be just the thing you want if you desire a rich robust spicy flavor.

This guide will at least give you a few ideas of what you may wish to serve at your Thanksgiving Dinner. Remember wine pairings and even the aroma and flavor of wine is a personal one. The main goal is to serve a wine that will enhance as well as compliment the Thanksgiving dinner you have worked so hard to prepare.
More Articles by Amanda