Home
»
Winery Articles
Discover Long Island Red Wines
Posted by
Amanda
on 8/1/11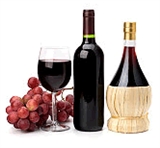 Wines are created to take on the personality of the area in which the grapes are grown. The Long Island wineries have been known to convert terroir into consistently delicious wines. The reds that the region is known for vary from the full bodied cabernet sauvignons to the lighter merlots or pinot noirs. The secret is the growing conditions that Long Island is known for. The coastal environment is perfect for growing red wine grapes that have to struggle just enough to grow. The hot summers and the freezing cold winters tend to create vines that are durable and produce grapes with more character.
While single-grape wines are highly popular with many of the oenophiles, there are many delicious blends to try as well. The merlot-based blends offer a very tasty and elegant version of the single-grape varietals. To get the full scope of the different kinds of reds, it is a good idea to try all of the different kinds and see which your favorites are.

The full-bodied red wines are more of what the Long Island wineries are known for. These include such local favorites as Blaufrankisch, Lagrein, Malbec, and Petit Verdot. While these are grapes often associated with other countries, their vines have been right at home on Long Island for generations now.

Those preferring a lighter body red can enjoy many of the fine rosés. These include everything from the pinot noirs to a cabernet franc. These are perfect for enjoying along with a light dish or even as an aperitif served before the meal.

Always keep in mind that the wines will vary in flavor from one Long Island winery to another. Never judge the wine by the grape until you have tried it. The growing conditions and the processing can create various flavors you cannot comprehend until you taste them.
More Articles by Amanda