Home
»
Winery Articles
Enjoying Long Island Wine Tours
Posted by
Amanda
on 2/10/10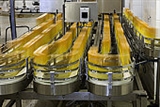 Long Island, New York is fast becoming among the top producers of wines in the United States. Today you can find vineyards and award winning wines throughout the area as you take a wine tour. Not only will you love tasting all the unique wines of the region, but you will also enjoy the beautiful landscape along the Atlantic Ocean.

Today, as you travel through the Long Island vineyards you will be surprised to find more than 3,000 acres belonging to over thirty wineries. Long Island extends out over the Atlantic Ocean some 120 miles and is home to ideal conditions for growing some of the most flavorful and exceptional grapes in the United States to use in the creation of award winning wines.

The majority of the vineyards are hoe on the east end of Long Island along with the North and South Forks. The wineries use recipes for growing, aging, and creating passed down through generations to create varietals and selected blends.

A tour of Long Island wineries, vineyards, and the countryside is one that will provide you with a unique experience. You will be able to enjoy sampling and even purchasing award winning wines from the producers while soaking in the breath taking scenery, lodging in cozy hotels or being catered to at bed and breakfast. There are all kinds of things to do in Long Island before or after your wine tour. You may wish to take a break half way through your day to experience all that Long Island has to offer for guests.

If you would like to reserve a Long Island, wine tour with a company that offers various tours you may wish to contact Long Island Wine Tours, Long Island Vineyard Tours, Regency Transportation, or Vintage Tours. You can also use a map and visit all the vineyards on your own without going on a tour with a group of strangers. No matter how you plan to tour the wineries and vineyards of Long Island give yourself plenty of time to enjoy the countryside as well as enough time to learn about the vineyards and the delicious wines they offer. Bring along a picnic basket and enjoy a glass of wine with your lunch while sitting in a vineyard. Make the day of it and visit other attractions in the area, you can always plan another trip to Long Island for a longer stay once you get a taste of the beauty and all the things you can find to do.
More Articles by Amanda