Home
»
Winery Articles
Taking the Train for a Winery Tour
Posted by
Amanda
on 10/15/12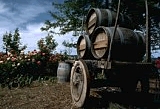 There is hardly a better way to enjoy touring the Long Island wineries than when you do not have to drive. The Long Island Railroad has created programs in which you can purchase a wine tour package. These packages allow you to get transportation to and from the winery as well as your entrance costs to the winery. It is a perfect way to enjoy all of the countryside that the area has to offer while you are going to taste some delicious wines.

Make sure that when you are booking these packages that you look at all of the different tickets you can purchase. The majority of people going are going as couples get-away. You can also book weekend wine tours for a wine club. Discounts for large groups are available, but all of the tickets will need to be purchased in advance and refunds are difficult to achieve once you have made the purchase.

Once you have booked your package with the Long Island Railroad, you only need to sit back and enjoy the experience. Look for some events where live music will accompany the wine tasting. Many will offer food along with the wine you are sampling since you will be there for hours.
More Articles by Amanda